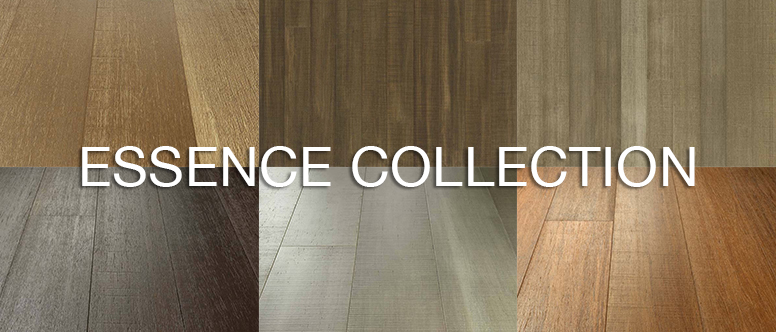 Introducing the All-New Essence Collection
We are happy to announce the addition of the Essence Collection to our flooring lineup. Teragren's best-selling Xcora® Strand bamboo floors get the all-star treatment in this stunning array of offerings. This new addition highlights familiar features from its collection counterparts but emboldened with a personality of its own. In total, the Essence Collection is anchored by 6 stunning colorways including: Grasslands, Meadows, Open Range, Prairie, Savanna, and Tundra — all of which are comprised of our strand bamboo wear layer that is on average 160% harder than red oak. These ultra-wide planks feature multiple hand-applied coats of color that are accentuated by texture acquired from hand scraping, wire brushing, and natural saw marks — all of which are just a few of the techniques derived to accomplish this multifaceted arrangement of trending color options.


When it comes to dimension, depth, and durability, this collection is in a league all by itself. Our TrueMark® Glaze Tek offers 4 coats of hand applied base and accent color, including 12 coats of finish for maximum performance. It is also backed by Teragren's lifetime structural warranty, which includes a 10-year heavy-use commercial warranty as well as a 25-year residential finish warranty.
Also featured in the Essence Collection is a strikingly beautiful natural composition showcased in each of the available colorways. This organic impression is derived from Moso Bamboo, which is harvested at its maturity to create a harder product for added beauty and longer lasting performance.


We pulled out all of the stops when producing this gorgeous flooring lineup including an emphasis on being environmentally friendly. By utilizing the latest ecosmart technology, we created a wear layer that is made of renewable materials, included certified USDA BioPreferred content, and implemented a  core made of Eucalyptus and Poplar wood.  

The Essence Collection offers incredible realism with expanded utility that opens new possibilities for designers and homeowners alike. To learn more about the Essence Collection, check out our website at www.Teragren.com. Find all of our products and receive expert advice by contacting a dealer near you.