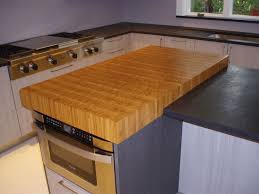 Teragren Counterop Performance: How will it perform with a stove top?
Damage will occur if your Bamboo comes in direct temperatures over 85 degrees Fahrenheit. It will cause the natural sugars in it to caramelize. Extreme heat can shadow or scorch bamboo. However, there are several ways to lessen the risk of this occurring and increase Teragren Counterop performance.
Check with your stove manufacturer for specifications on how much heat the sides, the surface and below can produce.
The use of aluminum heat shield tap or stainless steel heat shields can used as a protective layer between the stove and the bamboo
Framing the oven's alcove with tile, stone or other heat resistant material, will provide a "safe zone" for heat, cooking splatters, etc. Not to mention making a good place to set pots aside while hot.
You can see a successful application of butcher block bamboo below. Most of the heat from an oven travels upward. So, I'm fairly certain they utilized some sort of heat shield for this installation.
Whomever you are working with to design your new kitchen may have some insight that could provide you with options that will still look great…. And function well. If I can help further, please let me know.​​