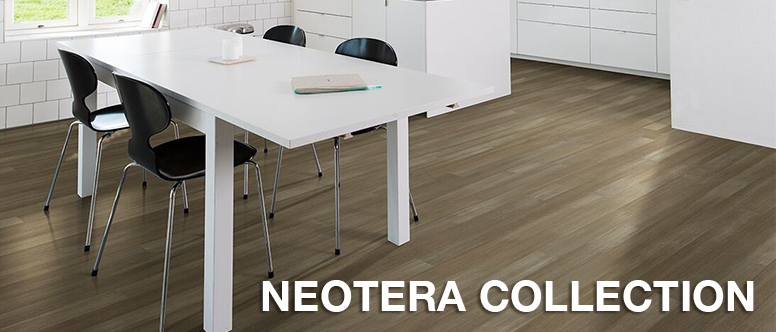 Composition of the All-New Neotera Collection
Flooring is one of the most impactful design elements in an interior. It is the first thing that is seen when stepping into a room and it has the ability to set the tone and ambiance of a space. In this day and age, selecting the right flooring for a project can be a daunting task as the options seem endless. There are many factors to consider when searching for the right floors including: material type, color, plank size, and maintenance, among a host of others. Thankfully, Teragren has simplified the selection process by introducing stunning flooring products that satisfy performance and design.
One flooring type that has garnered much attention is bamboo. The durability of strand bamboo with the stability and flexibility of an engineered construction make this material appealing for designers and homeowners alike.
COLORWAYS
Teragen comprises a host of bamboo flooring compilations including the Neotera Collection, one of the newest product launches of 2018. It boasts a gorgeous range of 5 contemporary hues with just the right amount of texture and open grain. These trending color options include: Warhol, Sherman, Rothko, Pollock, and Kruger. All of these options make it effortless to find something that will complement any style or design and once installed these offerings will have a long lasting impression for years to come.


In addition, a concerted effort was made to make Neotera unique and groundbreaking. All of the hues that are needed to select a cohesive flooring design are present in this collection. These gorgeous products feature Teragren's best-selling Xcora® Strand bamboo wear layer over a eucalyptus/poplar core, which is on average, 160% harder than red oak.
VERSATILITY
One of the outstanding features of Neotera is its versatility. This is due to the durability of the wide planks themselves being able to be used in applications where durability and lasting beauty is desired. Thanks to its protective low sheen finish, each Neotera offering embraces a longer lasting 2mm wear layer for added endurance.
To learn more about the Neotera Collection, check out our website at www.Teragren.com. Find all of our products and receive expert advice by contacting a dealer near you.